The 11th Annual Meeting of Leaders of MBA Union of China themed on constructing Guangdong-Hong Kong-Macau Greater Bay Area and supporting the Belt and Road strategy was held in Guangzhou Baiyun International Convention Center on February 3, 2018. More than 500 guests were invited to attend the meeting, including deans, professors, advisory committee members, council members, presidents of regional unions and outstanding student representatives of MBA or EMBA from over 100 colleges and universities all over the country. On behalf of our university, Luo Xiaohong, vice president of the 8th MBA Union of Guangdong University of Foreign Studies, and Luo Xiaohua, the outstanding student representative of our MBA, attended the meeting at the invitation of the hosts.

Guangdong's opportunities and challenges in Guangdong-Hong Kong-Macau Greater Bay Area, and the new responsibilities and duties of the MBA Union under the Belt and Road strategy were discussed at the meeting. Professor Chen Chunhua, the legendary lady being a professor, entrepreneur and writer at the same time, gave a keynote speech. She started from political policies to company innovation, made a deep analysis of the current situation of the market and put forward valuable suggestions to help companies and individuals grow rapidly. The audience benefited from her a lot.
The achievements made by the Union were reviewed and excellent teams, individuals and long-term strategic partners of the Union were awarded at the meeting. In addition, a new president of MBA Union of China was elected, laying a solid foundation for the future prosperity of the Union.
It was one of the important parts of the Annual Meeting to award outstanding talents and teams.
Luo Xiaohong, an MBA student from grade 2016, was awarded "Top 100 MBA New Taxes". Luo Xiaohua, an MBA student from grade 2012, was awarded "Top 10 Entrepreneurial Achievement Award". Former presidents of MBA Union of China presented the awards to the winners.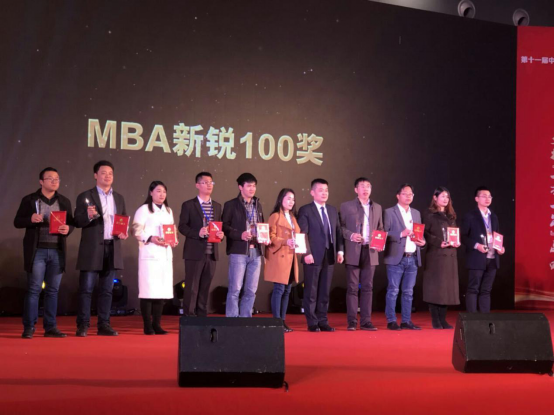 Representatives of our university and other MBA leaders and elites made in-depth exchanges, and shared their achievements of MBA education at the meeting. MBA Education Center of GDUFS School of Business will continue to uphold the "Smile" value, bring the MBA education of our School of Business to a new high and further increase the brand influence of the MBA education of our university.